South Bank
This page contains out-of-date information and will be revised soon.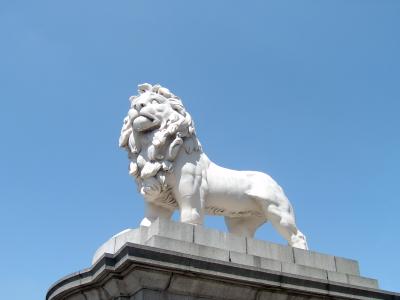 The South Bank lion at the southern end of Westminster Bridge
The first part of London south of the river to make it on to the tourist map, the South Bank has a lot to offer.
The South Bank Centre incorporates the Royal Festival Hall, Hayward Gallery, Poetry Library, Queen Elizabeth Hall and Purcell Room.
The British Film Institute is also represented, with the National Film Theatre and BFI London IMAX cinema.
The Royal National Theatre is at the heart of Britain's theatrical scene. As well as its three auditoria, the RNT holds exhibitions, musical events, backstage tours and talks. There is a bookshop and several restaurants.
Festival and Waterloo Millennium Piers offer access to the area by boat; otherwise Waterloo is the nearest station. Many people choose to approach the area via Hungerford Bridge (aka Golden Jubilee Bridges - the two new pedestrian walkways opened in 2002 as a late-running Millennium project) from Charing Cross station.
The County Hall complex includes the London Aquarium, Dali Universe, Namco Station, Premier Travel Inn London Marriott Hotel.
Filling the gap between the South Bank Centre and County Hall, Jubilee Gardens offer much needed open space - ideal for a picnic. Belvedere Road commemorates the Belvedere Pleasure Gardens which opened on the site now occupied by the Royal Festival Hall in 1718. Jubilee Gardens is now dominated by the British Airways London Eye, the hugh observation wheel offering panoramic views of London.
View some photographs of the South Bank area.