Employment relations minister Gerry Sutcliffe visited the Waterloo Job Shop and Coin Street Community Builders on Wednesday as a guest of the South Bank Employers' Group.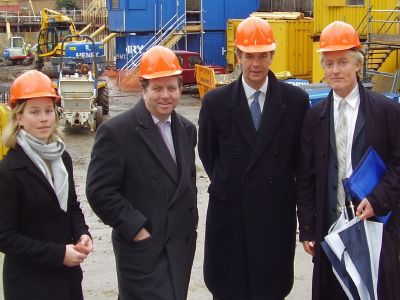 L-R: Sarah Wilson (Coin Street Community Builders), Gerry Sutcliffe MP, Andrew Eddy (SBEG chair and Shell London centre director) and Iain Tuckett (director of Coin Street Community Builders)
The minister visited the South Bank and Waterloo to find out more about what the
South Bank Employers' Group
describes as "the area's unique business-led model for regeneration" and "innovative approach to job brokerage and business support".
Mr Sutcliffe visited the Waterloo Job Shop in Lower Marsh, which has successfully placed over 380 residents in both larger organisations such as Shell Centre and Morley College and smaller businesses such as building firms and bakeries.
In addition to job brokerage, the Job Shop runs training courses to help people improve their skills in computing and financial packages and hone their CV writing and interview techniques.
The minister also met Coin Street Community Builders who run a new business support scheme in partnership with One London. Coin Street director Iain Tuckett showed the minister construction work on its new Neighbourhood Centre in Stamford Street. Work commenced at the end of January on the mixed-use development which will include a learning and enterprise support centre as well as meeting and conference facilities.
At ITV's Upper Ground HQ Sutcliffe was briefed about the work of South Bank Employers' Group; ITV London is an active member of SBEG, having rejoined last summer – its predecessor LWT had previously been a member of the group
"The South Bank area is a key area for employment in Lambeth and Southwark and is identified in the London Plan as a location for thousands of new jobs," says SBEG chief executive Ted Inman. "The group is committed to helping local people secure these jobs, thus ensuring that the local community benefits directly from new developments."