Ken Livingstone hads announced details of the first charity fundraising event to be held in London's Living Room at City Hall (for which he's waived the £5000 fee), but there's still no indication of when the public can visit this important space.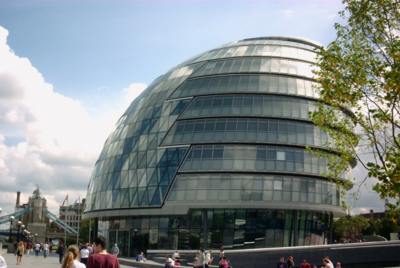 City Hall">
The Hope Centre – which uses the cognitive education methods of Professor Reuven Feuerstein to provide unique educational opportunities for children with learning and developmental difficulties- will host a fund-raising dinner with the Mayor on the 22nd October.
The Mayor said: "London's Living Room has some of the most spectacular views in the city, and in one of the most exciting new buildings in the city. I want to put this fantastic space to the best use possible, which is why I'm inviting charities to come and use it for fundraising purposes.
"I'm very pleased that the Hope Charity will be the first charity to take advantage of this offer. They achieve astonishing results with children that the mainstream education system often doesn't have the experience or resources to cope with. They desperately need money to make sure that the opportunities they offer are opened up to as many children as possible."
The Hope Centre event, 'an Evening With Ken Livingstone' features a question and answer session with the Mayor, chaired by former BBC journalist and spokesman for Mohamed al Fayed, Michael Cole.
London's Living Room is on the 9th floor of City Hall. The first event held there was the premiere party for the Tom Cruise film 'Minority Report'. London's Living Room will be open to use by charities for fundraising purposes once a fortnight, free of charge. The normal commercial rate would be £5,000.
Members of the public were able to enjoy the views from London's Living Room during the Open House weekend in September, but despite promises on the City Hall web pages, no further dates have been published.
Charities wishing to book London's Living Room for fundraising purposes should apply in writing, providing information about their organisation, to Building Amenities Manager, Facilities Management, City Hall, Queen's Walk, London SE1 2AA.