Thirty volunteers from Deutsche Bank in Bishopsgate donned overalls and paint brushes last week to decorate two areas of the Colombo Sports & Community Centre off Blackfriars Road.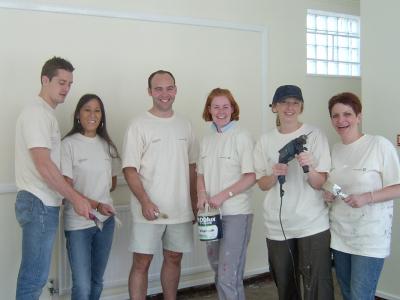 Colombo Centre">
The
Colombo Centre
is a charitable organisation providing affordable health, fitness, sport and social activities for people living or working in Lambeth or Southwark. For three of the volunteers, the experience was also used as a project management training exercise.
"The Colombo Centre community challenge provides an excellent opportunity for Cross Business Operations staff within Deutsche Bank to give something to the local community, whilst creating an environment where our leadership, teamwork and project management skills can be developed further in a non-business environment." said Gillian Lancaster, head of transaction processing risk and sourcing management for Deutsche Bank.

There will be a celebration with the community centre and Deutsche Bank staff on Thursday 1 July upon the completion of the decorating.
The refurbishment was made possible by the generosity of local businesses. The Symphony Group donated the kitchen fittings, the Altro group donated the new flooring, Jewson Limited, Peckham Branch donated paints. Through one of Deutsche Bank's global programmes, Initiative Plus 2004 – learning through cultures – the Bank also made a donation to the centre of £3,000.
Facilities at the Colombo Centre include a fully equipped 2,000 sq ft gym, 3 badminton courts, table tennis, sunbeds and an indoor sports hall which caters for a 5 a-side football, volleyball and basketball. They run special classes for the over 50s including whist, bingo, tea dancing, badminton and bowls club, there is also a playgroup each weekday morning.